About Us
Location
Our rustic cabin installations are built on the top of a hill over looking Drake Bay, named for the legendary pirate, Sir Francis Drake who according to history buried a treasure which is for us the beautiful beaches and the natural richness that we have around us and the amazing marine live that own the Caņo Island both ubicated close to Drake´s Bay, on the South Pacific of Costa Rica.
Which makes this area a great place to spend your vacation in touch with nature and very close to the beach.
Our rustic private cabins installations are located in a small hill. The hotel has 3 hectares of land with 200 m of beach front in Drake´s Bay, with and amazing view to the Pacific Ocean, the bay has amazing beaches and a tropical forest as well as its flora and fauna that is charateristic of the Corcovado National Park. The hotel is located 8 miles of Corcovado and the Caņo Island is 12 miles West of Drake Bay.
For all the biodiversity Drake´s Bay is one of the areas that you must visit, to have a better chance to see the wildlife on the ocean and on the land..


Lodging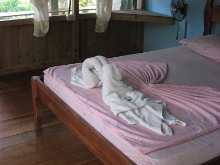 Our hotel has very pleasant rooms designed especially to make your stay the most comfortable as possible stay. You can enjoy the fresh sea breeze and the beach is only 200 meters away from the hotel. You will fall asleep to the sound of the breaking waves and awaken to the early morning sounds of the surrounding wildlife.
In addition to the excellent view, we also include three delicious home-style meals carefully prepared by our cooking staff. We also offer all tours in the area, and you can find more information in our Eco- Activities.


Prices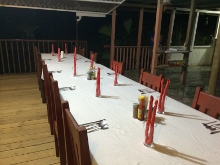 You can find us in the Lonely Planet guide as the most economical alternative in Drake Bay. For $26 per person, excluding taxes, per night, with breakfast included. If you prefer $ 49 + tax per person all inclusive
If you would like to contact us at info@miradordrakebay.com or call us (506)2775 27 27 , (506)88-36-94-15
Please consult us about our tour prices, transfer prices and other activities.
To find us in Drake's Bay, simply tell the boat driver that you wish to go to El Mirador or ask anyone in town once you arrive. You will find that people are genuinely friendly and eager to help.